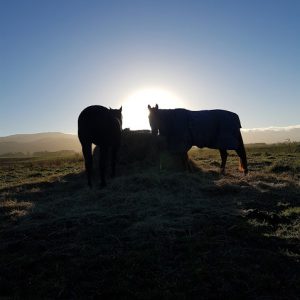 After what seems like a very long and wet winter, we are finally experiencing some more spring like days with warmer temperatures which are helping to dry out the very sodden land.
Mares are starting to arrive for foaling and dry mares are being sent away to be prepared for the new breeding season.
We were delighted to see Andrea and Merv Hall purchase our beautiful Excelebration – Mamma's Love filly at the South Island Sale in April and we sincerely wish them all the very best of luck with her. She is staying the the South Island at the Lance Robinson Racing Stables which means that we can get easily get to keep track on her.
Unfortunately Rionius has damaged a tendon and has had to be retired from the track but we have leased a lovely Iffraaj filly called Ahyum and have already been in the winner's circle with her.
We are shaping up to have a nice South Island Sales draft for the April sale and we have very limited spaces available to prepare yearlings for clients. Please feel free to contact us if you are thinking of selling your horse at the sale to confirm a box.